Casino Cheating Methods
Casino cheating methods are strictly prohibited by the casinos and laws, but still they are invited and used by the gamblers. The casinos offers and jackpots are very attractive for players, so they try to do everything possible to increase their winning chances. Gamblers use special electronic devices, card counting and gambling techniques to reach their main aim - to win as much money as it is possible. And the casinos sometimes use special cheating devices too to increase the house edge and prevent the players from victory.
Famous Cheating Devices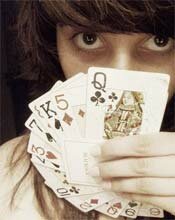 Blackjack shoe with the mirror. It is one of the best known devices, used by the casino dealers. The banker could see the next card moving from the shoe and deal the other one for the player. In such a way he had the opportunity to save the 10-value card for the next hand (to bust the other gambler).
Concealed cup for chips. The device was used as the common case for the player and the dealer to steal the casino money. The fictitious player sat at the table and placed the ""empty cup", which was considered to be the wager. The result is obvious: if he won, he received casino money, if lost - the casino got nothing.
Hot dice. It is one more popular cheating contrivance - the magnetic dice for continually rolling of the players desired numbers.
Snowballs. Do you think it is something connected with natural phenomenon? We are talking about the craps dice again. It is a special blank dice device. The players stick the dots on it themselves in such a way to avoid the 7-number result. So, the dice contain only 1, 4, 5 numbers and it is very easy to detect it.
Mercury dice. This dice was weighted by mercury, which recapped, so the particular number always appeared when it was necessary.
Red flasher. It was special payout meter helping players to get the access to the slots machines hoppers.
Optic pen. It has the same principle as the previous example, but this device is more concealed and designed with better technology.
Optic Light. Easy hiding in sleeves and pockets device for the coins access.
Computer for blackjack card counting. It is one of the most complicated constructions for card counting - a small computer designed by Keith Taft.
You've read the information concerning the card counting and casino cheating devices, and we strongly recommend you to leave it just "readable" one, as the casinos take very severe measures to casino cheaters.